Astro Rocket Pods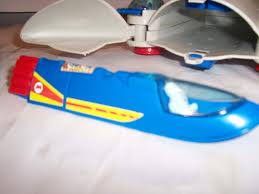 Production
Release Date
1990
Distributor(s)
Bluebird Toys
Video
Astro Rocket Pods is an air vehicle, designed to continue the search for Earth's Twin planet. It is also one of the vehicles contained within the Astro Sharkship. This vehicle is under the command of Darring 'Red' Starr.
DescriptionEdit
A high speed exploration ship with a single seated cockpit.
Below are the features of the Astro Rocket Pod.
Single seat cockpit
Canopy that opens
Contents of original packagingEdit
Below are the contents found in the original packaging.