Astro Shark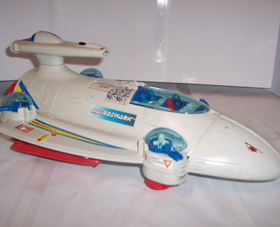 Production
Release Date
1991
Distributor(s)
Bluebird Toys
Video
Astro Shark was the last official ship released by Bluebird Plc. Under the command of the Darring 'Red' Starr and his Galactic Strike Force, it was designed to be a streamlined version of the Manta ship, continuing the search for Earth's Twin planet.
Manufactures descriptionEdit
Below are the features of the Astro Shark.
Contants of original packagingEdit
Below are the contents found in the original packaging.
1 Astro Shark
1 Astro Escape Module
2 Astro Rocket Pods
1 Astro Rocket Ship
6 Drop Bombs
2 Large Missiles
1 Darring 'Red' Starr
1 Commander Bill Quest
1 Captain Buck Finn
2 Manta Sharks
7 Manta Hawks
"The next generation of Manta fighting machines continues the search for Earth's twin planet."