Black Barracuda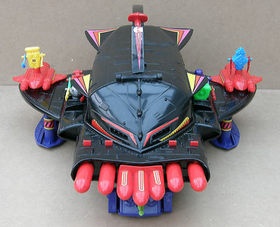 Production
Ref.No
910231
Release Date
1989
Distributor(s)
Bluebird Toys
Video
Black Barracuda is commanded by the evil Mad Karnock and has multiple purposes, which includes being a prison ship, robot factory and multiple strike vechile.
Manufactures descriptionEdit
Fiendish multiple strike-ship, Prison ship, and robot factory. With six Karnoid bionic robots, Mad Karnock and eight Manta men. Missiles have actual firing mechanism.
Mad Karnock can slide backwards and forwards on a special track inside the hull.
Black Barracude's missile launches have actual firing mechanism
Mad Karnock can sit inside the jaws of Gutz
Mad Karnock's brain glows in the dark
Gutz grips captives for Karnock consumption in the vile drendrils.
Contents of original packagingEdit
Below are the contents found in the original packaging.
1 Black Barrauda
1 Gutz
1 Gulp
1 Looger
1 Ski-outrigger
1 Wing-top-fighters
4 Roackets
1 Extra Large Rocket
1 Mad Karnock
6 Karnoid Robots
3 Manta Hawks
3 Manta Sharks
3 Manta Wolves
"Fiendish multiple strike-ship, prison-ship and robot factory, terrorising outer space and wrecking havoc on Earth's twin planet. Can Commander Quest and Major Vex defend themselves from the terrifying onslaught?"
Manta Force - The Black Barracuda Attacks was a one-shot comic designed to promote the Black Barracuda toy range.