Bog Rocket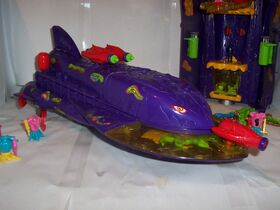 Production
Ref.No
910021
Release Date
1990
Distributor(s)
Bluebird Toys
Video
Bog Rocket is commanded by the vile Stinkhorn.
Manufactures descriptionEdit
With two methane Bog Bombs, roof-mounted swiveling twin guns with firing action and projectiles, retractable undercarriage and two stench eggs. The Bog Rocket can also stand upright to form the Bog Fortress, Vile Stinkhorn's command center, where his loathsome Stenchoids hold their Manta victims.
Below are the features of the bog Rocket.
Content of original packagingEdit
Below are the contents found in the original packaging.
1 Bog Rocket
1 Stinkhorn
4 Stenchoids
2 Bog Bombs
2 Stench Eggs
6 Decomposed Manta Men
1 Swivelling Single Gun
1 Swivelling Twin Gun
5 Stench Rockets
2 Manta Hawks
2 Manta Sharks
2 Manta Wolves
"Commanded by vile Stinkhorn, the terrifying Bog Rocket rises from the Swamp. Within are the loathsome Stenchoids, who spit stench over their victims to decompose them. Can Commander Quest and Major Vex survive yet another threat."
Foreign distributionEdit
The Bog Rocket was distributed throughout Europe, via FASSI and Habourdin International.
Comic panelsEdit
Manta Force - Vile Stinkhorn And His Stenchoids was a one-shot comic designed to promote the Vile Stinkhorn toy range.
Ad blocker interference detected!
Wikia is a free-to-use site that makes money from advertising. We have a modified experience for viewers using ad blockers

Wikia is not accessible if you've made further modifications. Remove the custom ad blocker rule(s) and the page will load as expected.