Eagle Comics - 287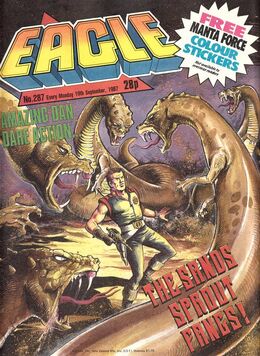 Eagle Comics # 287 contains their third comic strip based on the Manta Force toy line.
Chapter Title: The Guardian
Captain Buck Finn begins to urgently search for Commander Bill Quest, after his Blue Lightning ship mysteriously crashed into a lake. The recaptured Battle Copter transports the Aquattack to the location where the Blue Lightning disappeared. With Captain Finn at the controls, the Aquattack speeds towards the bottom of the lake, finding the Blue lightning tangled amongst weeds. In-order to retrieve the Blue Lightning, the S.A.M is also deployed by Captain Finn. While attempting to retrieve the Blue Lightning, Captain Finn realises that the weeds are tentacles of a huge creature. Unable to escape the tentacles, the Hydro Blaster is sent to attack the creature using its twin blaster cannons. The explosions causes the creature to loose its grip on the Aquattack. Once Captain Finn has escaped the creatures grip, the S.A.M drags the Blue Lighting to dry land, only to find Commander Quests cockpit empty.
To be continued in the next issue...
Free giftEdit
Two Manta Force stickers were included within this issue.
Notes of interestEdit
The Blue Lightning is designed to be waterproof for a limited amount of time.
Comic panelsEdit