Eagle Comics # 289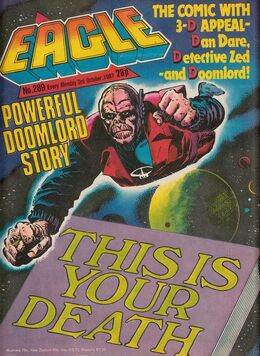 Eagle Comics # 289 contains the fifth comic strip based on the Manta Force toy line.
Chapter Title: The Alien City!
In spite of the presence of the Guardian and the treat of Major Leon Vex, the men of the Manta Force continue their important exploration work on the new world; hoping it be Earth's Twin Planet. While exploring the planet, the sensor on Kendle's Skeeter indicates a strong metallic reading from the forest below. Supported by Harris's Manjet, they decide to land and explore the reading on foot. Following these reading, the two Manta Hawks discover an ancient alien city, which they decide to explore.
Shortly after, Major Vex and his Vipers discover the two Manta Hawks vehicles. Knowing that they must be close by, Major Vex explores the area and discovers the ancient alien city. With the support of the Vipers, Major Vex launches a surprise attack on the two Manta Hawks. While attempting to shoot them, a laser beam struck a statue and caused a stone door to open. Harris and Kendle retreat through the opening, quickly followed by Major Vex and his vipers.
Concerned by the radio silence, Commander Bill Quest dispatches the Attack Ship to search for the missing Manta Hawks. Nearing the last known area of communication, the Attack Ship locates the Skeeter and Manjet. Believing Harris and Kendle are in trouble, Commander Quest sends the Battle Copter, Rocket Rammer and Strike Bike to search for the two missing manta men. Discovering the ancient alien city, Commander Quest leads an attack on the Viper Squad. Outnumbered, the Viper Squad soon surrender to the men of the Manta Force, who also rescue Kendle. Deeper inside the city, however, Major Vex has captured Harris and discovered a collection of ancient bracelets. Major Vex places one of the bracelets on his arm and is immediately engulfed in an explosion of light.
To be continued in the next issue...
Notes of InterestEdit
Two Manta Hawk characters called Kendle and Harris are introduced for the first time.
Comic panelsEdit