Eagle Comics # 292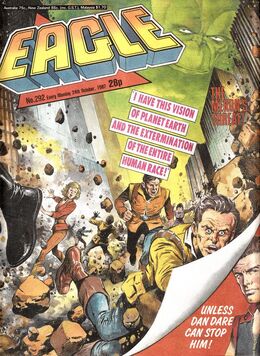 Eagle Comics # 292 contains their eighth comic strip based on the Manta Force toy line.
Chapter Title: Mystery Monster!
On an over-populated Earth, depleted of its resources, humanity faces it greatest crises. In response, the World Government is urgently meeting at their headquarters, discussing the possibility of sending humans to the newly discovered planet. Desperate to find a solution, the World Government is also willing to overlook reports of potent problems with the planet, as lethal concentrations of pollution and food shortages are beginning to take their toll. Light years away, Commander Bill Quest is at the controls of the Blue Lightning, searching for Major Leon Vex and the stolen Attack Ship. While searching above the clouds, Commander Quest discovered a huge alien spaceship. Unfortunately, Major Vex has already landed inside the vessel and discovered advanced technologies that could be used to overwhelm the Manta Force.
Moments later, Commander Quest enters the alien vessel and finds that the Attack Ship has been left unattended. Using the remote override, Commander Quest attempts to recapture the Attack Ship before Major Vex and his men can respond. However, the attempt to recapture the Attack Ship does not go unnoticed and Major Vex decides to destroy the vessel using a cannon on-board the alien spaceship. A blinding beam of light surrounded the Blue Lightning and the Attack Ship, causing Commander Quest to lose control. Commander Quest battled to regain control of both vehicles, as they hurtled through the clouds towards the planet's surface. With seconds remaining, Commander Quest regained control and safely landed both vessels.
Back on the alien spaceship, Major Vex and Sergeant Klein release that the cannon has duplicated both the Blue Lightning and the Attack Ship. Using these duplicate ships, Major Vex decides he can create his own army, which is a thousand times more powerful than the Manta Force.
Meanwhile, Commander Quest receives an urgent message on the sub-space radio, informing him that the Earth Survival Fleet are bringing one million colonists.
To be continued in the next issue...
Notes of interestEdit
A member of the Viper Squad called Sergeant Klein is introduced for the first time.
Comic panelsEdit