Eagle Comics # 294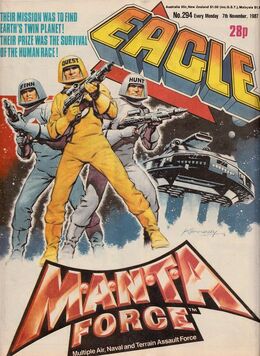 Eagle Comics # 294 contains their tenth comic strip based on the Manta Force toy line.
Chapter Title: The New World!
From the moment the first settlers arrived, towns were built from prefabricated sections brought by the transport ships. Prospecting teams also search for metal and minerals, so disparately need back on earth. The richest seams where rapidly exploited by automatic mining machines and loaded onto waiting transported ships.
After a short while, it is possible to travel a hundred miles in any direction from the original settlement and only see tame countryside. Beyond the last farm and fields however, lay a vast unexplored wilderness, including the hidden Major Leon Vex. It is this frontier that is patrolled constantly by the men and machines of the Manta Force.
In an attempt to capture the evil Major Vex, Commander Bill Quest dispatches Captain Buck Finn in a Hydro Blaster of the Manta Shark navy. Multiple units of the Manta Hawks air force are also sent to provide support, including the Blue Lightning jets and Skeeters. While exploring the polar continent, however, Captain Fine discovers hundreds of Hydro Blasters stored in an icy cavern.
To be continued in the next issue...
Notes of interestEdit
Comic panelsEdit