Eagle Comics # 295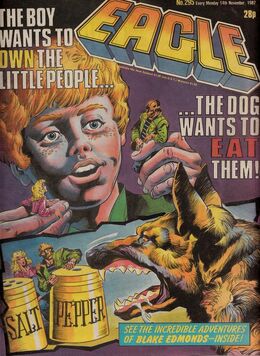 Eagle Comics # 295 contains their eleventh comic strip based on the Manta Force toy line.
Chapter Title: Surrender or Die!
Captain Buck Finn tracks down the Vipers to an ice cavern in the frozen southern continent of New Earth and discovers dozens of duplicate Hydro Blasters. Without warning, multiple waves of Major Vex clones begin to appear and attempt to capture the leader of the Manta Sharks. Captain Finn is able to initially avoid capture, until an armed Major Vex appears behind him. With Captain Finn captured, Major Vex reveals that the clones have been formed out of pure energy. Major Vex decides to use the alien device to clone Captain Finn.
Back at the Manta Force colony, Captain Finn has been given up as missing in action. To their astonishment however, Captain Finn suddenly appears in his Hydro Blaster.  Unaware that he is a cloned version of Captain Finn, he reveals that Major Vex and his Viper Squad have been destroyed.
To be continued in the next issue...
Notes of interestEdit
Comic panelsEdit