Eagle Comics # 304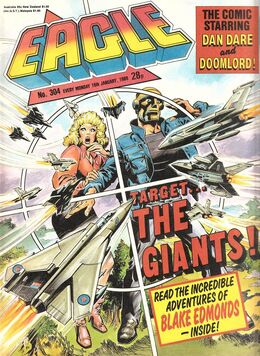 Eagle Comics # 304 contains their twentieth comic strip based on the Manta Force toy line.
Chapter Title: Avalanche!
Facing defeat at the hands of Manta Force on Earth's Twin planet, Major Vex resorts to a terrifying treat. Unless the Manta Force surrender Commander Quest to the Viper Squad, Major Vex will bury the settlers under a mountain of boulders. Unable to locate Commander Quest however, Major Vex interrogates Commander Hunt about his whereabouts.
Meanwhile, deep in the jungle, Commander Quests has repaired the Attack Ship. No sooner than the repairs are complete however, Major Vex's voice can be heard on the radio. He warns Commander Quest, that unless he surrenders within 10 seconds, he will kill the settlers. With no other option, Commander Quest informs the leader of the Viper Squad he is coming.
Realising that Commander Quest is coming to save the settlers in the Attack Ship, Major Vex orders the release of the boulders. Fortunately, Commander Quest arrives in the Attack Ship and deploys a cargo net, which captures the boulders before the settlers are crushed. Moments later, Commander Quest flies over the duplicate Viper Squad base and releases the bounders below the Attack Ship. Unable to escape, the duplicate Viper squad are eliminated. 
To be continued in the next issue...
Notes of interestEdit
Comic panelsEdit