Gutz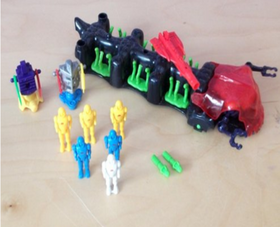 Production
Ref.No
900211
Release Date
1989
Distributor(s)
Bluebird Toys
Video
Gutz (Black) is a vehicle controlled by Mad Karnock and is apart of the Black Barracuda ship.
Manufactures description
Edit
Voracious fighting vehicle that houses Mad Karnock, controller of the robot Karnoids, and can store captured Manta men in its even tendrils, to feed Mad Karnock's appetite. With two robot Karnoids and eight Manta men. Gun has actual firing mechanism.
Below are the features of the Gutz
Canopy that opens
Detachable cannon with actual firing mechanism
2 rocket compartments
6 holding cells
A red variant version of Gutz was also sold independently by Bluebird Toys in 1989.
Foreign distribution
Edit
The Gutz was also distributed throughout Europe, via FASSI and Habourdin International.