Hammer Head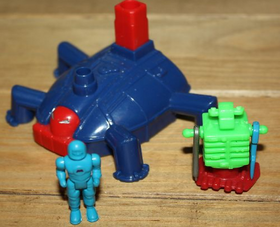 Production
Ref.No
900131
Release Date
1989
Distributor(s)
Bluebird Toys
Video
Hammer Head is a ground vehicle controlled by the Karnoid Robots and is designed to be a spring-loaded battering.
Manufactures descriptionEdit
Forceful vehicle with spring-loaded battering ram, push-button action: can knock over men and walls. With one Karnoid Robot (can locate on vehicle), one Manta man.
Below are the features of the Hammer Head.
A forceful battering vehicle that can over men or walls
A spring loaded battering ram with push action
Locations for Robot torso and base
Contents of original packagingEdit
Below are the contents found in the original packaging.
1 Hammer Head
1 Karnoid Robot
2 Manta Men
Foreign distributionEdit
The Hammer Head was distributed throughout Europe, via FASSI and Habourdin International.
Ad blocker interference detected!
Wikia is a free-to-use site that makes money from advertising. We have a modified experience for viewers using ad blockers

Wikia is not accessible if you've made further modifications. Remove the custom ad blocker rule(s) and the page will load as expected.