Red Hawks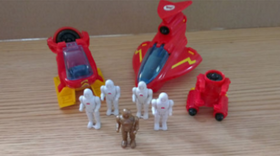 Production
Ref.No
88094
Distributor(s)
Bluebird Toys
Video
Red Hacks air vehicles pack, contains the Red Lightning, Red Skeeter and Red Manjet. These vehicles are under the command of Commander Bill Quest and his Manta Hawks.
Manufactures Description
Edit
Below are the features of the Red Hawks vehicle pack.
Red Lightning:
Single seat cockpit
Canopy that opens
1 laser cannon (non-firing)
Red Skeeter:
Single seated cockpit
Canopy that opens
Movable fantail
2 laser cannons (non-firing)
Red Manjet:
Contents of original packaging
Edit
1 Red Lightning
1 Red Skeeter
1 Red Manjet
1 Commander Bill Quest
4 Manta Hawls
Foreign Distribution
Edit
The Cyclops was distributed throughout Europe, via FASSI and Habourdin International.