Red Skeeter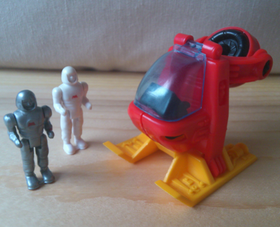 Production
Release Date
1987
Distributor(s)
Bluebird Toys
Video
Red Skeeter is an aircraft vehicle, designed to defend the Manta Force and explore Third Earth.  This vehicle is under the command of Commander Bill Quest and his Manta Hawks.
DescriptionEdit
A high speed attack helicopter with 2 front laser cannons (non-firing) and moveable fantail. Canopy opens to reveal a single seated cockpit.
Below are the features of the Red Skeeter.
A single seated cockpit
A canopy that opens
A movable fantail
2 laser cannons (non-firing)
Notes of interestEdit
The Red Skeeter was not sold individually, but as apart of the Red Hawks vehicle pack.
A dark blue Skeeter was previously released by Bluebird Toys in 1987.
Foreign distributionEdit
The Red Skeeter was distributed throughout Europe, via FASSI and Habourdin International.