Rocket Rammer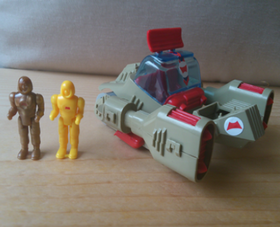 Production
Release Date
1987
Distributor(s)
Bluebird Toys
Video
Rocket Rammer is a ground vehicle, designed to defend the Manta Force and explore Third Earth. It is under the command of Commander Nigel Hunt and his Manta Wolves.
DescriptionEdit
Below are the features of the Yellow Rocket Rammer.
A double seat cockpit
A canopy that opens
Notes of interestEdit
The Rocket Rammer is one of the vehicles contained within the M.A.N.T.A ship.
A version called Yellow Rocket Rammer was released by Bluebird Toys in 1987.
Television advertisementsEdit
In the mid to late 1980s, Bluebird Toys broadcasted an advert on television channels throughout Europe, which promoted the M.A.N.T.A. and Rocket Rammer.