Spit Bug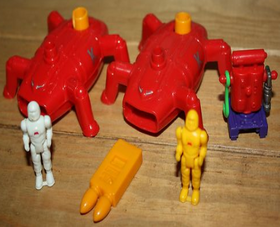 Production
Ref.No
900151
Release Date
1989
Distributor(s)
Bluebird Toys
Video
Spit Bug is a vehicle controlled by the Karnoid Robots and is apart of the Black Barracuda range.
Manufactures descriptionEdit
Super bolt-firer with easily loaded, actual firing mechanism. With one Karnoid Robot (can locate on vehicle), one Manta man.
Below are the features of the Spit Bug.
A hand operated rotating drill
Contents of original packagingEdit
Below are the contents found in the original packaging.
1 Spit Bug
1 Karnoid Robot
1 Manta Man
Foreign distributionEdit
The Spit Bug was distributed throughout Europe, via FASSI and Habourdin International.