The Scythe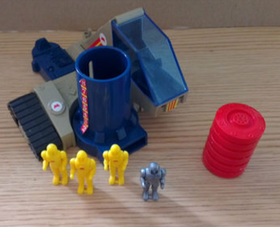 Production
Ref.No
89004
Release Date
1988
Distributor(s)
Bluebird Toys
Video
The Scythe is a ground assault vehicle, initially designed to defend the Battle Fortress. This vehicle is under the command of Commander Bill Quest and his Manta Wolves.
Manufactures descriptionEdit
A tracked mobile gun, that rapidly fires ammo-discs and automatically reloads. Features opening cockpit visor and tow hook.
Below are the features of the Scythe.
Powerful mobile tracked two-seater gun that fires special ammo-discs
Contents of original packagingEdit
Below are the contents found in the original packaging.
1 Scythe
8 Ammo-discs
1 Commander Bill Quest and 3 Manta Wolves
Foreign distributionEdit
The Scythe was distributed throughout Europe, via FASSI and Habourdin International.
Television advertisementEdit
In the mid to late 1980s, Bluebird Toys broadcasted an advert on television channels throughout Europe, which promoted the Scythe.