The Viper Vaporisor and The Manta Equaliser
Production
Ref.No
89006
Distributor(s)
Bluebird Toys
Video
The Viper Vaporisor and The Manta Equaliser are a ground cannon, designed to defend and attack the Battle Fortress.
Manufactures Description
Edit
Two battle cannons with firing mechanism. Guns elevate while gun commander has seat with integral control module.
Foreign Distribution
Edit
The Viper Vaporisor and The Manta Equaliser was distributed throughout Europe, via FASSI and Habourdin International.
Television Advertisement
Edit
Below is an advert that was broadcasted on television channels throughout European in the mid to late 1980s.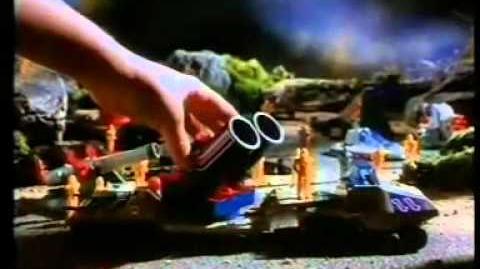 Ad blocker interference detected!
Wikia is a free-to-use site that makes money from advertising. We have a modified experience for viewers using ad blockers

Wikia is not accessible if you've made further modifications. Remove the custom ad blocker rule(s) and the page will load as expected.