Turbo Drill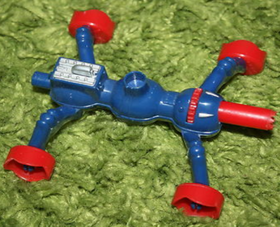 Production
Ref.No
900161
Release Date
1989
Distributor(s)
Bluebird Toys
Video
Turbo Drill is a ground vehicle controlled by the Karnoid Robot and is designed to penetrate hard surfaces. The Snatch and Sneak vehicles can be attached to the Turbo Drill, enabling them to become formidable ground vehicles. It can also replace the Ski-outrigger on the Black Barracuda.
Manufactures description
Edit
Vicious vehicle with hand-operated rotating drill and rotating wheels. With one Karnoid bionic robot (Can locate on vehicle) one Manta man.
Below are the official features of the Turbo Drill.
A hand operated rotating drill
A rotating wheels
Locations for Robot torso and base
Contents of original packaging
Edit
Below are the contents found in the original packaging.
1 Turbo Drill
1 Karnoid Robot
1 Manta Man
Foreign distribution
Edit
The Turbo Drill was also distributed throughout Europe, via FASSI and Habourdin International.