Yellow Wolves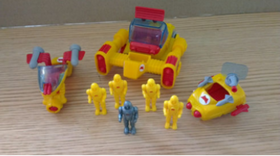 Production
Ref.No
88092
Distributor(s)
Bluebird Toys
Video
Yellow Wolves ground vehicles pack, contains the Yellow Strike Bike, Yellow Rocket Rammer and Yellow Gundog. These vehicles are under the command of Commander Nigel Hunt and his Manta Wolves.
Manufactures description
Edit
Below are the features of the Yellow Wolves vehicle pack.
Yellow Strike Bike:
Double laser cannons (non-firing)
Two rocket boosters
Yellow Rocket Rammer:
Double seat cockpit
Canopy that opens
Yellow Gundog:
Single seated cockpit
2 fixed rockets (non-firing)
1 rotating laser cannon (non-firing)
Contents of original packaging
Edit
1 Yellow Strike Bike
1 Yellow Rocket Rammer
1 Yellow Gundog
1 Commander Nigel Hunt
4 Manta Wolves
Foreign distribution
Edit
The Cyclops was distributed throughout Europe, via FASSI and Habourdin International.
Television advertisement
Edit
In the mid to late 1980s, Bluebird Toys broadcastered an advert on television channels throughout Europe, which promoted the Yellow Rocket Rammer.